I don't think that there is a big enough apology to account for my extended absence. I appreciate the emails and well-wishes from those who thought I had gone to meet the Great Blogger in the Sky - and the prodding from friends who wouldn't know where to eat, what to watch on television, or how to grab some extra airline miles or hotel points without me.

Without further ado, here are all of the latest entries for the Carnival of Dining Out. Since I have not posted in a couple of months, I am waiving the normal one-per-month rule. Those that submitted an article for each month, will have both posted.
Breakfast/Brunch
Jennifer Miner starts things off with Best Brunch in Chicago posted at Travel Articles. Jennifer wanted to make sure that my anti-sushi bias didn't preclude her participation, so she chose a topic that even a manly-man diner such as myself would approve. Some of these suggestions might just keep me out of Lou Mitchell's the next time I am in Chicago!
KoffieVerkeerd
is our first international contributor this month. The Amsterdam coffee bar scene is happening.
Early breakfast at Bagels & Beans
posted at
DaarZijnWeWeer
. Of course, it is possible that I haven't really considered the surge in the Euro against the American dollar, but 7 Euros (~$10US?) sounds like an awful lot of change to kick out for a bagel with a schmear and a cup o' joe.
Jul
checks in with a stop in one of America's culinary crown cities -
Brunch, New Orleans style
posted at
Veggie Chic
. This may well be the first vegetarian-specific submission. Congratulations!
Multicultural Dining Experiences
Forget that processed "just add boiling water", 10 cents-a-bag "meal" from your college years. Newcomer
Mystery Critic
will show you where to find
MC's Favorite Ramen Shops in the US
posted at
Mystery Critic Reviews of Best Restaurants
.There is a definite west coast bias here, but I suspect that the west may well be where the best ramen can be found!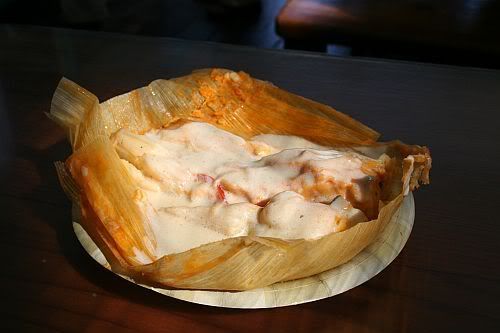 My good buddy, Kiki Maraschino (one of the all-time great nom-de-plumes) got her blog off the ground and sent in Que Rica! posted at Here, Eat This! (I also think her original blog name was a winner - if not G-rated!). Kiki has a great writing style, so you should definitely check out the rest of her work. Now. Go.
Dhana from Fresh Kitchen dropped in with a non-restaurant dining out experience at the local Thai temple in San Francisco. Dhana claims this to be the best Thai food outside of Thailand! And, since pictures are the way to my heart....well, I can't hotlink to the pictures, so you will need to click on the article to see them for yourself.

I will readily admit that I have never dined in a Ghanaian restaurant. Come to think of it, I don't know that I have ever SEEN a Ghanaian restaurant. If I were looking for one, though, I can think of no better place in the States than Berkeley, CA. Koranteng Ofosu-Amaah tells us aboutA Taste of Africa posted at Koranteng's Toli.

Fine/Upscale Dining Experiences
First-timer snekse writes about a new restaurant in one of my favorite cities - Darwin Bistro - Omaha, NE posted at Gastronomic Fight Club - Mischief. Mayhem. Soup. I am in the midst of planning my annual trip to the College World Series, and I may have to include Darwin Bistro on my list of potential dining options.
Repeat offender Steve Madsen gives us the latest on the Seattle dining scene with Twenty-six Dinners - Market Street Grill posted at South Bank Projects. I have participated in the Dine Around Seattle promotion when out that way in the past. It seems as though that special runs about the same time of year my business takes me to Seattle.
s'kat tells me that there aren't a lot of options in Newport News, VA, but Create Bistro is one of the best. She must know that I am a sucker for food photos, too - and that calamari looks delicious! Check out the rest of her posts, too, at s'kat and the miscellania.
From the "Maybe someday... Department," Sagar Satapathy presents Top 10 Most Expensive Restaurants in the World posted at Credit Card Lowdown. I guess for some restarantuers, this is a list that they would AIM to make. Congratulations, Mr. Keller, et al.
Counters, Cafes, Joints, Huts, and Shacks
belledame222's premier post, Fetch me my axe: "Well, let's have lunch. Everything looks better after lunch." is self-described as "New Yorker-style, first-person piece about an accidentally transcendent experience in a small seafood restaurant." I can't top that. Check out the rest of her work at Fetch me my axe.
Roderick Russell sends the first post from the great State of Connecticut! Traveler Food and Books posted at NOUMENON :: Art, Ideas, Culture & Capricious Opinion. Our run on vegetarian-friendly dining establishments continues. Taking advantage of my slacker status, Russell also brings us the first submission from New Hampshire, with Cold Mountain Cafe Review.

That's going to about wrap things up for this month's edition. My punishment for not posting for so long is that I don't get a link. But, check back periodically, or subscribe to the feed using the button at the top of the page, because I will have some new tales of my own travel coming up soon. In the past few months, I have had the opportunity to visit New York City upstate New York; Nashville, TN; and Jacksonville, FL. Who knows? I might even write about some of those trips!
Submit your articles to the next edition of
the
Carnival of Dining Out
using our
carnival submission form
. Past posts and future hosts can be found on our
blog carnival index page
.